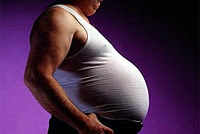 The Skinny: Alcohol can make it harder for you to lose the fat!
You take a swig of beer.
Within seconds, the beverage passes through your esophagus and into your stomach.
Twenty percent of the alcohol is absorbed into your bloodstream; the rest is absorbed into your intestines.
The alcohol travels through our blood to your liver, where it is broken down. During this process, waste products called acetate and acetaldehyde are created.
Acetate and acetaldehyde signal your body to stop burning fat. At the same time, your body starts making fat from another waste product of alcohol, acetyl CoA.
Your body can effectively process only 0.5 to 1 ounce of alcohol per hour. So the more you drink, the longer your body is inhibited from burning fat, and the more fat builds up from the excess acetyl CoA.
A 12-ounce beer contains about 0.6 ounces of alcohol.
The following also contain 0.6 ounces of alcohol
5.5 ounces wine (11% alcohol)
14.3 ounces of light beer (4.2% alcohol)
1.5 ounces of hard liquor such as whiskey (40% alcohol/ 80 proof)
1.2 ounces of hard liquor (50% alcohol/100 proof)
The above calculations are based on the percentage of alcohol present in each beverage, so the alcohol percentage or proof is given. For example, wine can sometimes be more than 11% alcohol. If you would like to learn more about calculating the amount of alcohol in your drinks, please visit www.elegantpie.com/cheers.html for formulas to help you calculate the ounces of alcohol in your drinks as well as blood alcohol content.
What's the point? If you're trying to lose fat, cut out alcohol for a while. You'll see and feel your results faster.