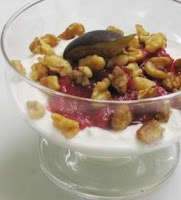 How to Choose the Best Yogurt
You want to eat healthier, so the next time you swing by the dairy case, you reach for the yogurt. Healthy, right? Perhaps…
There are so many yogurt products out there, and many of them are absent of all the redemptive qualities that make us seek it out in the first place. Here's a list of guidelines to help you choose a tasty yogurt that gives you all the health benefits you're craving.
Personally, I prefer low-fat over fat-free yogurt. The texture tends to be more satisfying and I find that little bit of fat keeps me feeling full longer. Compare the labels and you might be surprised to find that there is little difference calorically between the two. You should, after all, enjoy what you're eating.
When choosing yogurt, look for Low-Fat or Fat-Free Yogurt that contains (per 6-ounce serving):
Has the official

"LIVE AND ACTIVE CULTURES" Seal.

No more than 180 calories.

No more than 1.5 grams of saturated fat. Saturated fat's daily limit of 20 grams is easy to reach, so avoid it here.
No more than 30 grams of sugar. Naturally occurring lactose accounts for about 12 grams; more means excess sweeteners.
At least 20% of your daily calcium. This nutrient can be watered down by added sugars and filler ingredients.
300 mg of potassium. Okay, so this tip is a little picky, but if you can find it, go for it!
Remember:
"Plain" doesn't have to be… Layer low-fat Greek yogurt with blueberries (or any fresh fruit), a thin drizzle of honey, and two or three finely chopped almonds. Mmmmm.
If it says "creme" or "custard" on it, nutritionally, it's probably one step away from ice cream.