I live on egg white omelets. They are fast, easy, packed with protein, and delicious. Plus, you can change the accompaniments and have endless variations. I swear by my Scanpan frying pan; it is truly nonstick and can make perfect egg white omelets using no oil or fat!
Basic ingredients: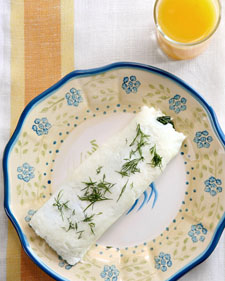 5 large egg whites
1/2 teaspoon coarse salt
Optional ingredients:
Chopped herbs, such as parsley, chives, sage, and chervil
Freshly grated cheese, such as feta, Parmesan,  or manchego
Diced lean ham, one slice crumbled bacon, or smoked salmon
Sauteed vegetables, such as onions, peppers, chopped spinach, mushrooms, &c
The key to having delicious egg white omelets is the technique. When done right, you have delicious fluffy omelet, but done improperly you get a runny, rubbery mess.
Heat your nonstick skillet over low heat. Meanwhile, whisk together egg whites and salt, incorporating a lot of air, which will ensure that the omelet is light and fluffy. Be sure not to do this in advance or the egg whites will deflate.
Place your hand directly above the skillet. When your palm feels warm, the skillet is ready to start cooking. Working quickly, pour whisked eggs into the heated skillet. While shaking skillet back and forth over heat, stir with a heatproof rubber spatula for less than 1 minute. You want to keep eggs moving, incorporating any runny parts and some curds begin to form.
Continue cooking, making sure eggs cover the entire surface of the skillet and using a spatula to push together any holes that may have formed. Top with one or more desired fillings.
Run the spatula along right side of omelet to loosen eggs from skillet. Place spatula under right side of eggs, making sure that the spatula is well underneath the eggs to offer maximum support, and lift right side over left in one fluid motion. Folded omelet should look like a half-moon.
Lightly press down on omelet with the spatula to seal omelet together. Do not press hard; you do not want to flatten the curds. Check to make sure the handle of the skillet is still facing directly out toward you.
Lift up skillet with one hand, and hold a plate with your other hand. Tilt skillet, and let the curved edge of the omelet slide onto the plate.
Value given for omelet with no optional fillings or toppings:
Calories: 80
Fat: 0
Protein: 20 grams
Personal favorite filling combinations: asparagus, ham, and Swiss cheese; smoked salmon, chives, low fat sour cream; onions, peppers, mushrooms; tomatoes, basil, fresh mozzarella.