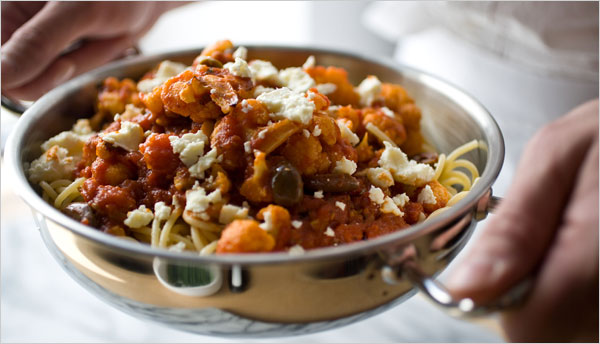 This is one of my favorite go-to dishes that I adapted from a recipe in the New York Times. Instead of using the cauliflower mixture as a pasta sauce, I use it as a flavorful side dish or easy, satisfying main course. I modify the recipe by using a whole head of cauliflower and decreasing the amount of olive oil used. One trick I found for making a little high quality olive oil go a long way is by using Misto, a handy kitchen gadget that lets you spray the oil of your choice.
Ingredients:
1 medium head of cauliflower, broken into florets
about 1 – 1.5 tablespoons extra virgin olive oil
2 garlic cloves, minced
1/4 to 1/2 teaspoon red pepper flakes, to taste
1 (14-ounce) can chopped tomatoes, with juice
Pinch of sugar
1 teaspoon fresh thyme leaves, or 1/2 teaspoon dried thyme
Salt and freshly ground pepper
12 kalamata olives, pitted and cut in half lengthwise
(optional) 2 ounces either feta (crumbled), ricotta salata, Parmesan, or a mix of Parmesan and Pecorino (grated)
1. Preheat oven to 400 degrees. Bring a large pot of generously salted water to a boil and add the cauliflower. Blanch for two minutes and transfer to a bowl of ice water. Drain and blot very dry.  Quarter the cauliflower florets, spray with olive oil (or if you're not using Misto, toss with about 1/2 T olive oil and mix until coated). Salt the oiled florets generously. Transfer to a baking sheet, place in the oven and roast 30 minutes, stirring from time to time, until tender and lightly browned. Remove from the oven and set aside.
2. Meanwhile, in a wide, nonstick frying pan or a 3-quart saucepan, heat the remaining oil over medium heat and add the garlic and red pepper flakes. Cook, stirring, until fragrant, about one minute. Add the tomatoes, sugar, thyme and salt, and bring to a simmer. Simmer over medium-low heat, stirring often, until thick, 15 to 20 minutes. Stir in the cauliflower and the olives, and simmer a few minutes more. Taste and adjust seasonings.
3.  If you want cheese, sprinkle the cheese over the top and serve at once.
Values given below are for the entire dish served. Serves: 2-4
Calories: approx 500kcal, or 640kcal with feta cheese
Fat: approx. 30g, or 40g with feta cheese
Protein:approx 19g, or 30g with feta cheese