This recipe from Martha Stewart is perfect! It is testament to the fact that you don't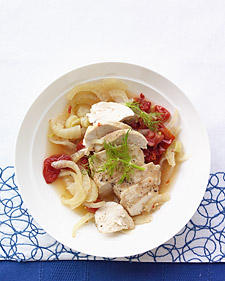 need to spend a lot of time or effort cooking in order to get a delicious meal. I modified her version slightly so that I get more vegetables and more broth per serving. Sometimes I add an additional 3/4 cup of chicken broth if I'm in the mood for more of a soup dish.
Ingredients:
8 plum tomatoes, (about 1 pound), cored and cut in 3/4-inch pieces
2 fennel bulbs, (10 to 12 ounces each), halved, cored, and thinly sliced crosswise, fronds reserved (see note)
1/2 cup dry white wine
Coarse salt and ground pepper
2 boneless, skinless chicken breast halves, (about 8 ounces each)
3/4 cup low sodium chicken broth (optional)
Directions:
In a large, deep skillet, combine tomatoes, fennel, and wine; season with salt and pepper. Arrange chicken breasts in a single layer on top of vegetables, allowing as much space between pieces as possible; season with salt and pepper.
Bring mixture to a boil; reduce heat to medium-low, cover skillet, and simmer gently until chicken is opaque throughout, 15 to 20 minutes.
Slice chicken breasts, and serve on top of vegetable mixture; garnish with reserved fennel fronds.
Serves 2-4. Nutritional information based on a 4 ounce portion of chicken and 1/4 the vegetable mixture.
Calories: approx 230
Fat: approx 2 grams
Protein: approx 25.5 grams